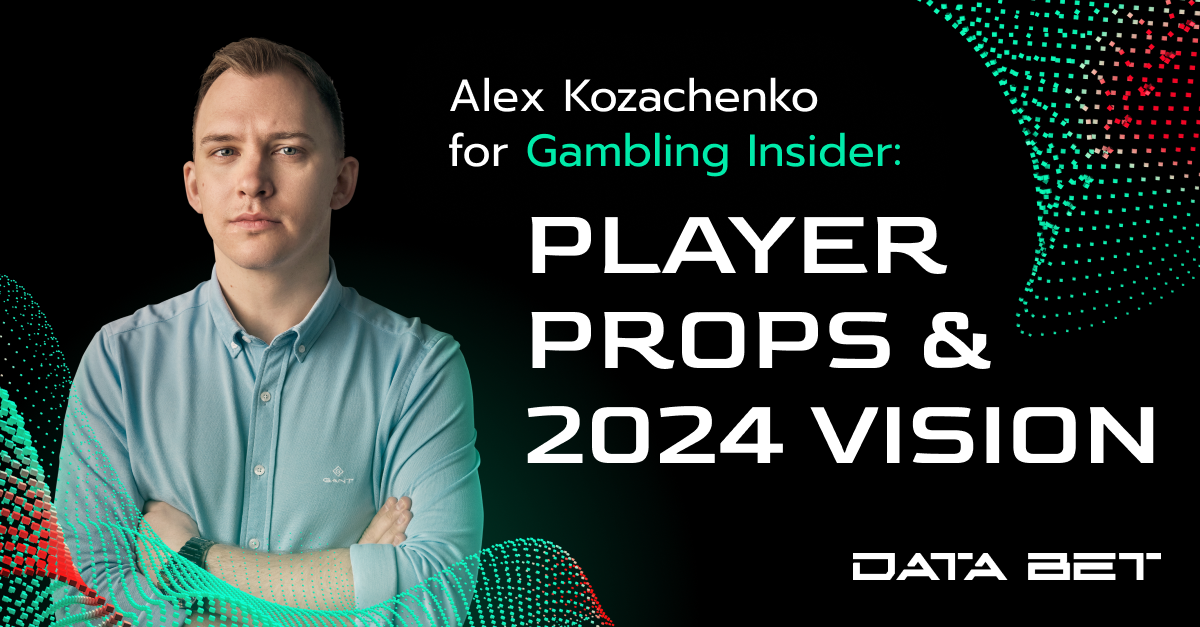 DATA.BET exclusive: Player Props and 2024
Can you tell us more about Player Props and how the development of it came about?
Player Props are an exclusive feature developed in-house by the esports data provider DATA.BET which enable players to place bets on specific actions of individual team members, offering a highly personalized dimension to esports betting. For example, bettors can predict statistics such as Total Kills and Total Deaths of their favorite players by the end of each map and make a bet on the outcome of their choice.
The concept of Player Props arose from a broader discussion on personalization in the iGaming sector. Personalization is a crucial aspect of various industries, especially those associated with luxury markets. It's about creating a special connection with the customers, making them feel valued and understood. This unique touch shows you the company cares, and that's what brings customers back again.
In the iGaming industry, while many companies discuss gamification and ways to make content more engaging, there's often a lack of research into understanding and meeting user needs with personalized content. Thus, we set out to find a way to offer this approach to bettors beyond our existing recommendation models, and this is how Player Props was born.
Esports, at its core, is driven by professional players who create content for fans. Fostering a bond with a beloved idol is common in many fields, and esports is no different. Esports bettors often have strong ties to their favorite players, similar to the way traditional sports fans admire top athletes like Cristiano Ronaldo or Lionel Messi. The challenge was to bridge the gap between esports bettors and professional players, even if they were thousands of kilometers apart and only visible through screens. This challenge led to the inception of Player Props. We aimed to allow bettors to experience a deeper connection with their preferred team, event, and players, providing a sense of being in the shoes of their favorite esports athletes.
Our team invested significant effort in data analysis, drawing insights from official data sources to make this idea a reality. We discovered that specific player-related data had been underutilized in the past and could be creatively combined to offer bettors unique and personalized experiences. With these insights in mind, we developed an MVP for CS:GO.
Live testing confirmed our hypothesis, with Player Props swiftly becoming one of the top 10 markets of interest and retaining that status. We recently launched Player Props for Valorant, and it has shown great results so far. So, we are planning to expand it to two more games – Dota 2 and LoL by the end of the year. This success reaffirms our commitment to enhancing the esports betting experience and providing bettors with innovative and personalized features.
In summary, Player Props emerged from a vision of delivering personalized content and creating a stronger connection between esports bettors and the professional players they admire. The success and expansion of this product reaffirm our commitment to innovation and customer-centric solutions within the esports betting industry.
What does 2024 look like for DATA.BET right now?
In 2024, DATA.BET is focused on substantial growth and ongoing product improvement. We concentrate on staying ahead by spotting market gaps and setting trends that match esports' ever-changing landscape. 
Our primary objective is to diversify our product portfolio through collaborations with current and prospective partners. This expansion encompasses a wider array of sports, varied markets, and a distinct focus on live events. Our goal is to deliver bettors a more comprehensive and immersive betting experience. 
Our dedication to innovation and a profound understanding of the esports industry keep us moving forward. We're eager to continue this journey, pushing boundaries, and solidifying our role as a leading esports data provider.
Are you looking for new partnerships that give you even more data in the near-future? As your agreements with Bayes and Grid have already been successful in recent months.
Absolutely, real-time data is crucial for turnkey solutions. Our successful collaborations with Bayes and Grid have showcased our commitment to staying updated with the latest data sources.
Our focus on real-time data is crucial because it assures that our product is not just an investment but a guarantee of outstanding results. This dedication to real-time data significantly impacts the value that the esports market receives from DATA.BET.
We are always ready for new partnerships that can improve our product. We are eager to explore new possibilities, so don't hesitate to get in touch with your proposals; we're ready and willing to collaborate.